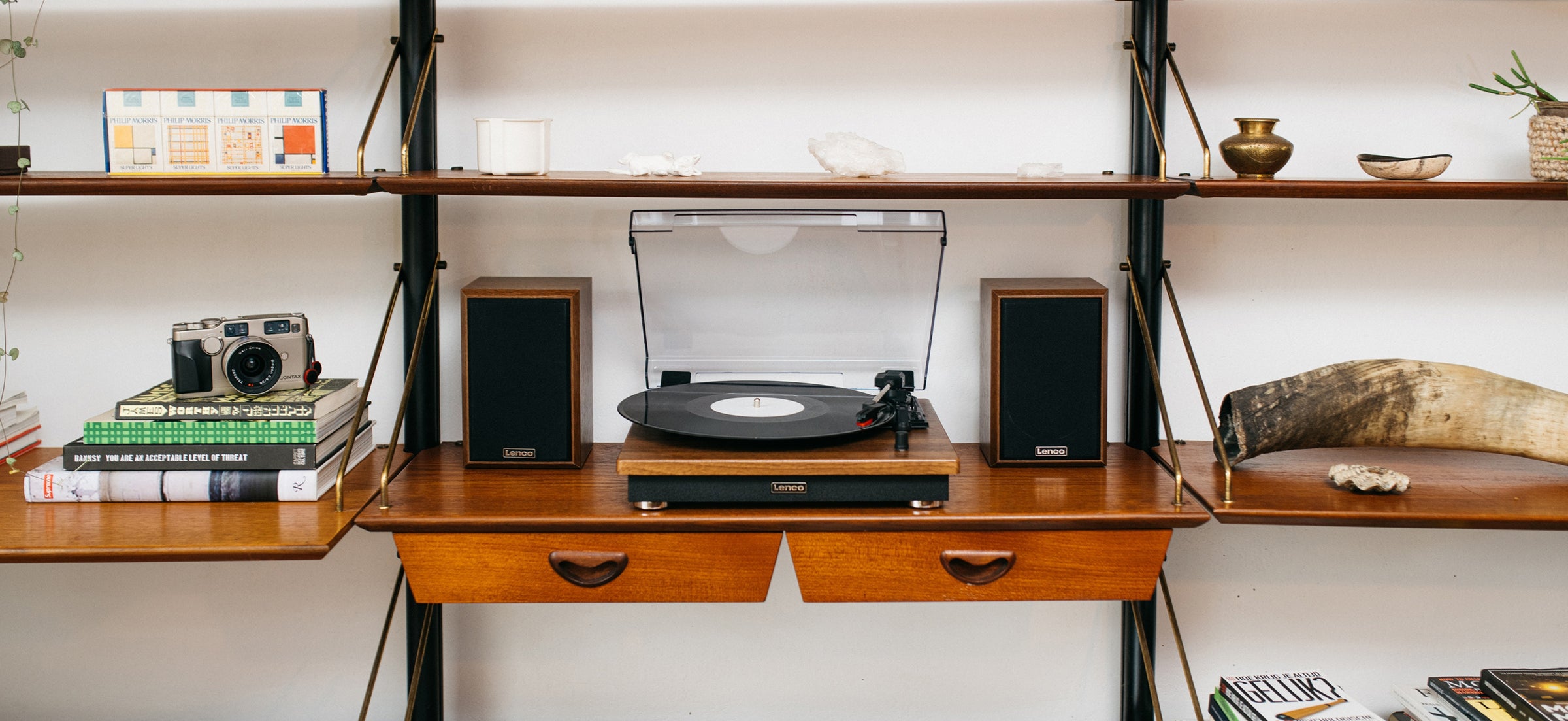 Record player with speakers
---
Platenspeler met speakers van Lenco
Bij Lenco hebben we een mooie en uitgebreide collectie aan platenspelers met speakers. Met Lenco platenspelers met speakers kan je genieten van een indrukwekkende geluidskwaliteit die recht doet aan de charme van vinylmuziek. Bij Lenco hebben we 2 varianten platenspelers met speakers, namelijk:


Platenspelers met ingebouwde speakers
De naam zegt het al, hierbij zijn de speakers ingebouwd in de platenspeler. Heel fijn wanneer je niet te veel geld wil uitgeven voor extra speakers ofwel de ruimte niet hebt om je externe speakers te plaatsen. Dit betekend niet direct dat de geluidskwaliteit hierdoor ook meteen slecht is. De ingebouwde speakers kunnen nog een verrassend zuiver en vol geluid geven. Ook voor diegenen die nieuw zijn in de wereld van vinyl, bieden de ingebouwde speakers van de Lenco platenspeler een laagdrempelige manier om kennis te maken met dit tijdloze medium. Het uitkiezen en afspelen van je favoriete platen is eenvoudig en intuïtief, waardoor je direct kunt genieten van de rijke klanken van vinyl zonder enige installatie of configuratie.


Platenspelers met losse speakers
Hierbij zijn de speakers zoals de naam aangeeft apart van de platenspeler. Het voordeel hiervan is dat de geluidskwaliteit toch vaak nog iets beter is met een breder frequentiebereik en diepere bassen die zorgen voor een meer meeslepende luisterervaring. Ook heb je keuze over het soort speakers dat je zou willen aansluiten. Al hebben de meeste modellen van Lenco hoogwaardige tweeweg speakers bijgeleverd.
Surround sound ervaring
Een bijkomend voordeel van platenspelers met losse boxen is de mogelijkheid om een surround soundervaring te creëren Door de platenspeler aan te sluiten op een home cinema-systeem met meerdere luidsprekers kun je jezelf omringen met geluid en het gevoel krijgen dat je in het midden van een muzikale uitvoering staat. Een echte must-have voor de audiofielen onder ons. Lenco heeft meerdere high end modellen die hier perfect toe in staat zijn.
Luisterplezier op maat voor iedereen!
Kortom, de Lenco platenspeler met zowel ingebouwde als losse speakers biedt een wereld van muzikale mogelijkheden voor iedereen, van beginners tot gevorderde luisteraars. De ingebouwde speakers zorgen voor direct luisterplezier en eenvoudig gebruiksgemak, terwijl externe speakers de mogelijkheid bieden om de muziekervaring op maat aan te passen aan jouw specifieke smaak en behoeften. Of je nu op zoek bent naar een nostalgische vinylervaring of de ultieme audiofiele reis wilt maken, de Lenco platenspeler heeft alles in huis om je te laten genieten van de ongeëvenaarde schoonheid van analoge muziek.
Platenspeler met speakers kopen?
Ben jij overtuigd en wil jij graag een platenspeler met speakers van Lenco? Twijfel dan niet langer, bestel je platenspeler met speakers voor 20:00 en je hebt hem morgen binnen. Vanaf €30,- ontvang je jouw bestelling ook nog eens gratis thuis. Op al onze producten ontvang je 2 jaar garantie en mocht je niet tevreden zijn, dan kun je jouw bestelling altijd binnen 30 dagen retourneren.